On the Art Wall  -- in the library's main floor Miron Fireside Room
Second-graders from Janet Berry Elementary School in Appleton learned about the election process and were then asked to artistically express their view of the Statue of Liberty as a symbol of freedom, diversity, and thankfulness in America. Their art teacher, Menasha artist Lynn Ann Sauby, shares their creations with us.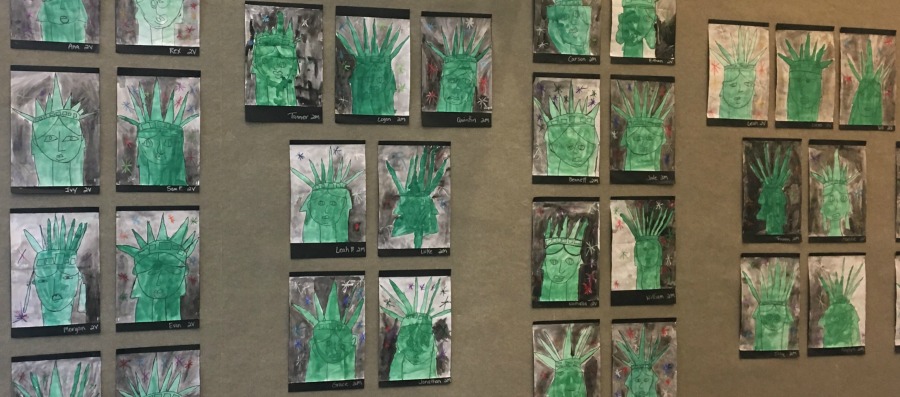 In the glass case in the Lobby
Emilie Steinmann, a Menasha artist, entrepreneur, and owner of Ooh Shiny Art Glass LLC, exhibits her glass art, including fused glass servingware made with a technique known as fusing or kiln-forming.


In the glass case in the Circulation Area
-- a rosemåling exhibit with pieces created by Lois Mueller, master rosemåler, and Kathryn Hartmann, apprentice. Mueller earned a Gold Medal for Excellence in rosemåling from Vesterheim, the Norwegian/American Museum in Decorah, Iowa, in 1998. Since that time she has written nine rosemåling instructional books and has traveled to teach throughout the USA, Canada, and Taiwan.  More on Lois Mueller is available here. Lois and Kathryn were awarded a grant for a Folk Art Apprenticeship program by the Wisconsin State Arts Board for 2016-17. They are studying the Norwegian folk art of rosemåling, specifically the Telemark and Rogaland styles.
Both will demonstrate these techniques on Saturday, April 22, at 1:00pm here at the library. Lois will teach a basic class at the library on Sunday, April 23, at 1:30pm. Registration for the class is required; all the materials are provided. See details.

In the Menasha History Case
There is also a glass case from the original Elisha D. Smith Public Library on Mill Street tucked into the corner at the start of the large print and fiction collections.  The Menasha Historical Society presents artifacts from Menasha's strong history with baseball.



Would you like to show your art or display at the library?  Find out more.