The library is located along Racine Street, between 1st and 2nd Streets.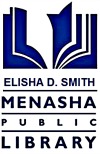 There is a 24-hour book return, for all materials, located on the west side of the building. (When you're in the parking lot, it is on your right as you face the main entrance.)

Any resident of Wisconsin may get a library card. The library has about 120,600 books, 15,700 dvds, and 11,115 audio materials (music and books on disc or Playaway) to check out.  Most materials are due back in 28 days, although dvds are due in 1 week and new materials are due in 2 weeks.