The 2019 Fox Cities Book Festival begins on Monday, October 7, and runs through Sunday, October 13.
The Elisha D. Smith Public Library is honored to host: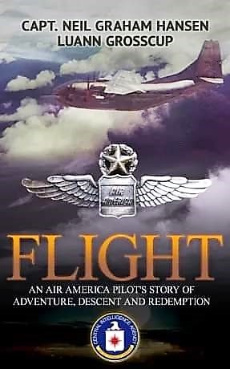 Saturday, October 12, at 9:00am read the book
Neil Hansen (Non-Fiction, History)
Flight: An Air America Pilot's Story of Adventure, Descent and Redemption  
Air America pilots risked their lives over the skies of southeast Asia during the days of the Vietnam War and the secret war in Laos. Air America did not operate within the context of the
U.S. military, instead performing their duties as "shadow warriors," owned and operated under the Central Intelligence Agency.
Beyond detailing covert operations with Air America (and including the day he had the dubious honor of being on three downed aircrafts in a single twelve-hour span), Air America Capt. Neil Hansen addresses his post-Air America time when he was flying for a fly-by-night commercial carrier in Cambodia in 1975. He escaped from there literally hours before the entire country fell to the Khmer Rouge at the time of the Cambodian holocaust. Neil escaped, in essence, by stealing a plane and flying in the blind, sans flight plan, from Cambodia to Bangkok, only a matter of moments before the murderous Khmer Rouge marched into Phnom Penh.
 Other authors presenting at the library:
Saturday, October 12, at 11:00am read the book
Kristine Hansen (Non-Fiction, Food)
Wisconsin's Cheesy History .
Saturday, October 12, at 1:00 pm read the book
Jerry Apps (Non-Fiction, Nature)
The Civilian Conservation Corps in Wisconsin
Saturday, October 12, at 3:00pm
Steve Betchkal (Non-Fiction, Nature) read the book
A Walk West: Rediscovering America's National Parks a Step at a Time
This information may change. Follow the festival on Facebook. Or check the Fox Cities Book Festival for news.
All programs at the Elisha D. Smith Public Library are free and for everyone. Those with special needs are encouraged to call the library office at 920.967.3662 within 24 hours of an event to assure that specific needs with regards to parking, building and meeting room accessibility are met.
Todos los programas de la Biblioteca Elisha D. Smith son gratuitos y para todos. Aquellos con necesidades especiales pueden llamar a la oficina de la biblioteca 920.967.3662 con 24 horas de anticipación a un evento para asegurar que las necesidades específicas de parqueo, acceso al edificio o acceso a las salas de reunión puedan ser satisfechas. The library's main program room is equipped with a hearing loop, which will transmit to headphone receivers that are available upon request or to your own hearing device with a t-coil.
Saturday, October 12, 2019 - 9:00am
Image: