Get in the holiday spirit wit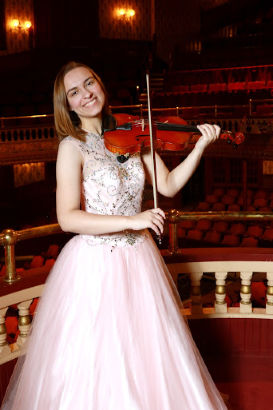 h a performance by talented young violinist Alicia Michelle performing classic holiday music.

Alicia is the recipient of many violin awards and honors. At age 14 she became a member of two professional orchestras, the Fox Valley Symphony and the Green Bay Symphony Orchestra, the youngest person ever accepted into both orchestras. She continues to play with professional orchestras and also plays in chamber orchestras, quartets, and string trios. With her group Spirited Strings she has been honored to have been named the 2019 "Christian/Gospel Artist of the Year" by the Wisconsin Area Music Industry (WAMI). Check her website to learn more about her.
Duration: 1 hour.
Location: Miron Fireside room
All programs at the Elisha D. Smith Public Library are free and for everyone.  Those with special needs are encouraged to call the library office at 920.967.3662 within 24 hours of an event to assure that specific needs with regards to parking, building and meeting room accessibility are met.  

Todos los programas de la Biblioteca Elisha D. Smith son gratuitos y para todos. Aquellos con necesidades especiales pueden llamar a la oficina de la biblioteca 920.967.3662 con 24 horas de anticipación a un evento para asegurar que las necesidades específicas  de parqueo, acceso al edificio o acceso a las salas de reunión puedan ser satisfechas.
Saturday, December 14, 2019 - 2:30pm
Image: