Pick up materials outside the library entrance.
Select materials to check out using one of these methods:
 

Place holds on items in the library catalog.   (On a smartphone, find the Winnefox Mobile app in your app store).   OR
Call us.

Call 920.967.3670 for children's materials or a themed Grab 'n' Go children's book pack.
Call 920.967.3690 for adult or teen materials.
​You will be notified by email or phone call when your materials are ready for pickup. 

After you receive that notice, you have a week to pick up your holds from a designated area outside the library's main entrance. 
No appointment is needed.
 

When you arrive at the library:

​Please return all of your items to the outside book drop.  
Stand on a blue X outside the library entrance and give us your name.  Your items will be placed out on a table for you to take.
The health of our library staff members, as well as members of our community, is a priority. If you are sick, please ask us to delay this service by calling 920.967.3680. The library reserves the right to refuse service to anyone who jeopardizes the safety of staff members or other library patrons waiting for service. 
Note:
Please wear a mask when you pick up your materials.
If you need a library card, complete this form.
If your card is expired, email us at reference@menashalibrary.org or call 920.967.3680.
If you no longer want the materials you have on hold, please cancel them in the library catalog.  Click on My Account, then Holds, click on the hold you would like to cancel, and then cancel the holds.  Or call us.
If you are notified that your holds are ready, but you prefer to stay home or delay pickup, call us at 920.967.3680. If you can't make it in to the library, call us at 920.967.3690 and ask about Home Delivery.
If you do not pick up your materials within the week, they will be checked in and made available for someone else.
Please place returns in the outside book drop.  Please do not hand them to the attendant at the entrance.
Please observe social distancing if there are others waiting to pick up holds.  Waiting spaces have been marked off on the sidewalk.
All materials returned to the library are quarantined for public safety before being made available for pickup. Notice of hold availability will not be sent out until after your materials have been set aside for the quarantine period.
The library is accepting donations of materials once again.
When you pick up materials, please ignore the computer-generated due dates.  These are wrong because we are checking out to you before you pick things up.

DVDs  & video games are due back in one week from the day you pick them up. 
New books, Rokus, WiFi hotspots, and magazines are due in two weeks. 
All other items are due in one month.

Need a file or a form on the internet printed?  Click here. 
Would you like us to place a hold whenever your favorite author publishes a new book?  Go to the library catalog, click My Account at the top of the screen, login, and then click on Favorite Author Club.  Check all of your favorite authors, select your preferred format, and then click on Submit.
Other Services Available at this Time:
Personal business services:  Not Available at this Time
Virtual programs – watch them live on Facebook or later on our website
An online library of ebooks, audiobooks, videos, comics, magazines, newspapers, and classes
Reference service/reader's advisory -- call 920.967.3690 or email reference@menashalibrary.org
Homebound delivery for those who can't make it to the library -- call 920.967.3690 to arrange for this service

Hours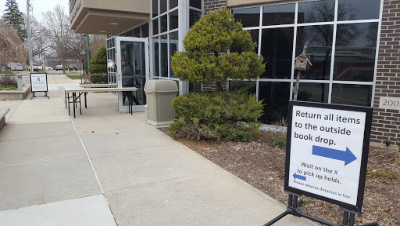 8:30 to 8:30  Monday through Thursday
8:30 to 6:00  Friday
8:30 to 4:30  Saturday
1:00 to 5:00 Sunday